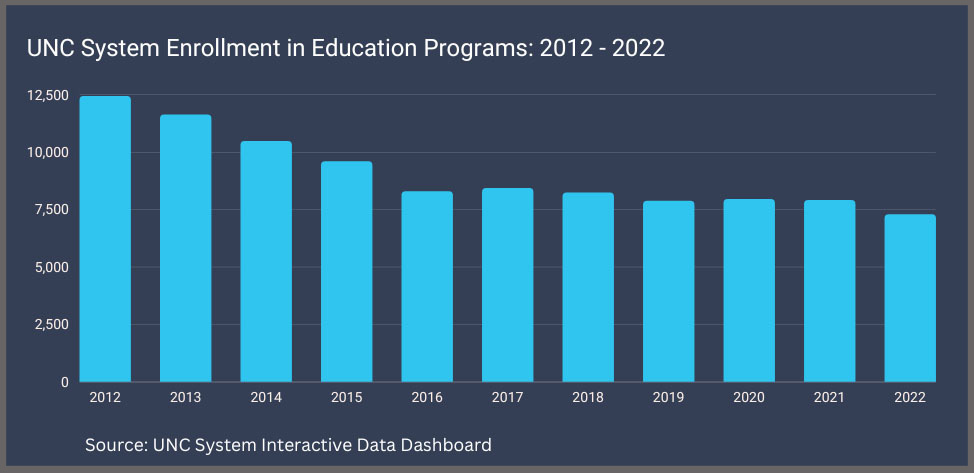 If your kids headed back to school or started kindergarten this fall, chances are at least one of their teachers is either not fully licensed* or experienced (having taught 3+ years). According to a 2023 BEST NC report on teacher pay in North Carolina, 26 percent of Chatham County public school teachers in 2020-2021 did not have a Continuing Professional License (CPL) and 16 percent were beginning teachers. In some North Carolina counties the percentages were as high as 56 percent and 38 percent respectively. (*Note: The lack of a CPL does not equate to an incompetent teacher. As the average cost to prepare and take the CPL exam is $450, it is often a cost deterrent for many teachers. Fortunately, North Carolina recently implemented an initiative that reimburses teachers up to $500 toward exam costs.)
And then there are the vacancies—whether from needing to hire more teachers because of Chatham County's rapid growth or because of increasing attrition rates. Overall, the North Carolina Department of Public Instruction says vacancies have increased in recent years and reported 5,091.46 instructional vacancies on the 40th day of the 2021-2022 school year. Research by The Education Policy Initiative at Carolina (EPIC) shows that the attrition rate for North Carolina public school teachers has also increased significantly in the last few years. From 2016 to 2019, rates remained steady at around 11 percent, then dipped to 9.5 percent in 2019-2020. But during and coming out of the pandemic, attrition rates were 12.1 percent in 2020-2021 and 15.6 percent in 2021-2022.
Even though teachers go into the profession knowing the pay isn't great—25.3 percent less than for comparable college graduates securing jobs in North Carolina (Public Schools First NC)—attrition rates tend to be higher for beginning teachers. Maybe it's the reality of that low salary setting in; North Carolina's starting salary of $37,000, after all, is barely more than a minimum living wage for one adult. In one-fourth of North Carolina's school districts, teachers cannot comfortably afford to rent a one-bedroom apartment on this amount. And, on North Carolina's current pay schedule, it takes 15 years for a teacher to make $50,000, which is significantly longer than it takes other state employees such as law enforcement officers.
While these statistics are concerning, perhaps even more concerning is the declining number of students seeking bachelor's degrees in education. In the UNC System, for example, enrollment in bachelor's programs dropped 35 percent between 2012 and 2021. According to Public Schools First NC, the UNC system's minority-serving institutions have been the hardest hit, which is "devastating to a teaching profession seeking to increase the diversity of its members to better reflect the diversity of students in the classroom."
If you've heard Chatham County Schools Superintendent Dr. Anthony Jackson speak, then you know this is what keeps him up at night. As he extols CCC's strengths, he shares that his own son works from home in a corporate job, making more than he'll ever make at the height of his career. "Tell me how we convince the best and brightest students to go into education without adequate compensation?" he asks.
A 2022 PDK Poll indicated that 62 percent of parents would not even encourage their children to go into the teaching profession. Reasons included low pay, few benefits, too much stress and lack of respect.
For a state that's been named No. 1 in business for the second year (CNBC), it's imperative that we continue to grow our workforce, but how do we meet that challenge with a declining teacher pipeline?
First, we continue to fight for our children's constitutional right to a sound basic education. In 2022, North Carolina had more than $6 billion in surplus in unappropriated funds, and in 2023, the state is expected to have about $3 billion more than budgeted in revenue (Public School Forum of NC) that could be used to fund new instructional positions, teacher assistants, textbooks or professional development. We must demand our legislators allocate these funds.
Second, we get creative. By implementing high-quality mentoring programs, for example, we may be able to lower attrition rates for beginning teachers as such programs have been shown to increase teacher retention and effectiveness (National Institute for Excellence in Teaching).
To encourage top-tier college students to go into the profession, we bring back full-scale programs such as the North Carolina Teaching Fellows, which provides free undergraduate tuition in exchange that fellows will teach for several years in North Carolina upon graduation. To not be burdened with student loans while barely affording an apartment at the start of your career, would be a huge boost for beginning teachers.
Helping teachers afford housing through a master lease is another option Chatham County Schools is exploring. The idea is that CCS would sublease apartments to teachers at no more than 30 percent of their salary. "We're still figuring out logistics," said Kelly Batten, Ed.D, CCS assistant superintendent for human resources, "but we've seen success in similar programs and are encouraged that this will prove to be a valuable recruitment and retention tool."