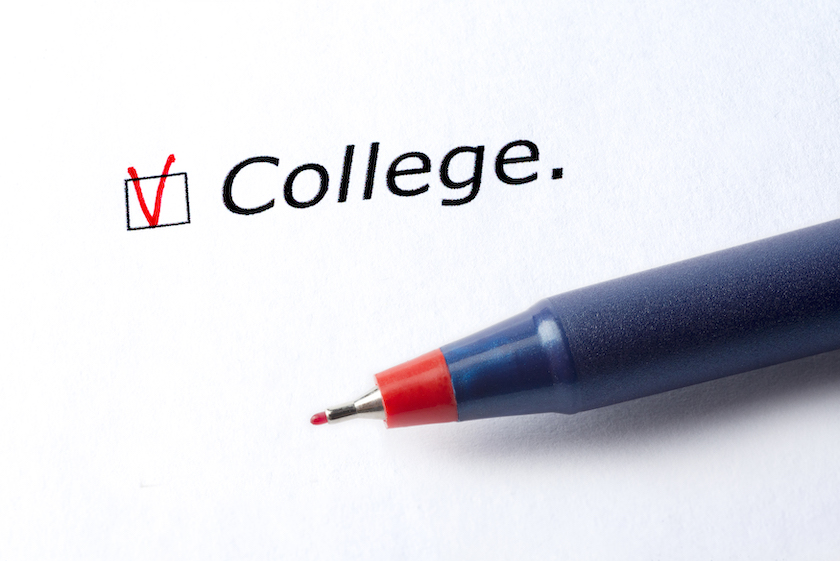 When it comes to applying for college, figuring out how to pay for it is typically the most daunting part for parents; for students it's likely writing the essay. With October being the College Foundation of North Carolina's Countdown to College month, CEF has rounded up some tips to help make the application process a little less stressful.
Paying the price
It's not just the cost of college that can be overwhelming, it's how to find and secure the funds to pay for it. The first step for any family seeking aid, after completing the NC residency determination, is to fill out the Free Application for Federal Student Aid (FAFSA), which is used to determine federal, state, and sometimes college-specific financial aid. Federal Pell Grants, work-study programs, scholarships, and loans are all included. Starting with the 2024-25 award year, several changes are coming to FAFSA. First, in past years, FAFSA could be filled out starting Oct. 1, but with all of the updates, FAFSA won't be ready until sometime in December 2023.
One of the biggest changes for those familiar with the form is that the Expected Family Contribution (EFC) will now be called the Student Aid Index (SAI). A June 26, 2023, EdNC article explains that the new name better suits the formula's intention—an index number that's used to determine financial need, rather than the amount families would need to pay for their child(ren) to attend college. The new SAI formula will no longer factor in the number of family members in college at one time, but it will still consider family size and the federal poverty level to determine eligibility and need.
In other financial aid news, three separate scholarship programs—the UNC Need-Based Grant, the Education Lottery Scholarship and the Community College Grant—have been combined into one. This change began for 2023-24 and still uses the EFC along with Annual Gross Income to determine eligibility but will convert to the SAI for 2024-25.
Again, the first step is filling out FAFSA, as in North Carolina, this is how students are considered for state aid at community colleges, all UNC institutions, and private colleges. According to the National College Attainment Network (NCAN), 2022 high school graduates left about $3.6 billion in Pell Grants unclaimed by not completing FAFSA, so it's definitely worth your time to complete.
Slaying the essay
Selling yourself isn't easy. Growing up we're told it's not nice to brag, but Gina Carapella-Bacheler, a college essay coach, said that is the point: "This is your time to brag, to use powerful words and adjectives, and to show how what you've done has made an impact."
Almost every school, Carapella-Bacheler said, is going to ask in some way how you are a good fit for that school. So in addition to selling yourself, you need to do your research and truly see yourself in each school setting to which you are applying.
Before you even begin writing, it's important to get organized. The Common App (commonapp.org) is a great resource with more than 1,062 participating colleges. But Carapella-Bacheler warns each school is going to have its own unique requirements. For example, Elon University may ask for a list of your "top 5," such as top 5 songs. Carapella-Bacheler suggests creating a spreadsheet with each college's specific requirements.
It's also important to pace yourself. You should definitely consider early action for your top school, as that proves your commitment. And since each application costs between $65 and $85 dollars, you should aim to at least get that application in during College Application Week when many NC colleges waive application fees. In 2023, that week is October 16-20.
For essays and short answer portions, Carapella-Bacheler encourages her students to write in a reflective tone and show leadership and community involvement. While a college coach can be a huge
asset, it's also expensive, especially if you want assistance with course recommendations and college searches as a sophomore/junior. But there are some cheaper alternatives. Besides helping students one-on-one, for example, Carapella-Bacheler offers workshops in which students can collaborate, brainstorm and get feedback from each other.
Spending time brainstorming is vital. And then students need to just write and not worry about punctuation. "It's going to be messy," Carapella-Bacheler said. Some students are able to write about overcoming adversity and how that makes them who they are; others are able to find a theme in their lives and write about that. "Each kid is so different," Carapella-Bacheler said, "and figuring that out is what makes an essay shine." Then you'll need to edit and polish and then edit and polish some more.
Gina Carapella-Bacheler is a Chatham County resident and has two kids who attend Chatham County Schools. She is founder of The College Edit (thecollegeedit.org).