BOOKS ON BREAK
The Chatham Education Foundation (CEF), in partnership with the Chatham County Schools (CCS) offers a program called Books on Break.  With a tremendous amount of support and a seed grant of books from Book Harvest, CEF and CCS strive to get books into the hands of economically disadvantaged students for the summer months.
Why?
Statistics show that two out of three children living in poverty do not have books in their homes (Source: National Center for Children in Poverty, 2013)
More than 80% of children from economically disadvantaged communities can lose one to three months of reading skills over the summer.  This can add up to 3 years of learning loss by the 5th grade leaving them lagging behind their more affluent peers.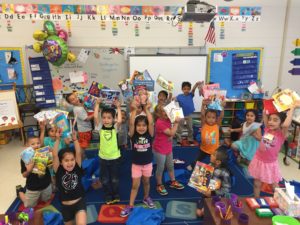 How?
CEF and CCS host a free book fair at two elementary schools in May each year.  Virginia Cross Elementary hosts over 90% of their students on the free-and-reduced lunch program and Siler City Elementary hosts over 85% of their students on this program. We are excited to announce that this year, we will be adding two additional schools, Moncure School and Bonlee School. Moncure School hosts around 50% of their students and Bonlee almost 60% of their students on the free-and-reduced lunch program.
These book fairs allow students to self-select books to read during the summer months and add them to their home libraries.
Look for upcoming county book drives.  We will accept new or gently used books.