On Friday, November 3, more than 70 Governors Club residents gathered at the new home of Chris, Jana, Max and Mason Ehrenfeld. The event, hosted by the Chatham Education Foundation (CEF), sought to bring attention to the high quality of the Chatham County Schools, offering insight into the supplemental resources CEF provides and offered a space for food, drinks and fun.
Through the course of the evening, guests mingled, toured the Ehrenfeld's new home (built by Bold Construction) and engaged with CEF Board members, staff and Jane Allen Wilson, Chatham County Board of Education member.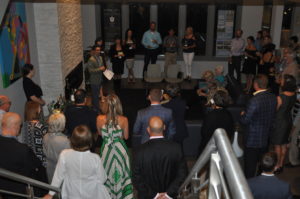 Chris Ehrenfeld stated, "Tonight I will give you two ways to keep the value in your home. The first, keep your home up to date and current. Second, support the local schools. These schools impact your home value considerably, and we are lucky that here in Chatham County, our public schools are strong."
Jaime Detzi, the Executive Director of the Chatham Education Foundation followed to inform the crowd that by 7pm, they had almost reached their goal of $10,000. Fortunately, thanks to the generosity of the attendees, by the end of the evening CEF surpassed their goal and almost $11,000 had been raised. These funds can purchase almost 3,700 books for students in need for the CEF Books on Break Program.
Lastly, Jane Allen Wilson, Chatham County Board of Education member told a heartwarming story of a Chatham County School student who grew up in poverty and was able to pursue his educational dreams through the AVID (Advancement for Individual Determination) program and became a Morehead Cain Scholarship award winner. CEF supports AVID students through scholarships that bridge the gap between the start of college and when their financial aid kicks in.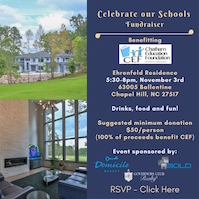 CEF is thankful to the Ehrenfelds and the event sponsors, Bold Construction, Domicile Realty and Governors Club Realty, whose generous contributions allowed 100% of the donations to directly benefit CEF.