The Chatham Education Foundation (CEF) is excited to announce a grant received from the Duke Energy Foundation for $30,000 for a countywide collaboration, Chatham Reads. Literacy can make or break one's education and workforce aspirations, and Duke Energy is helping take a stand in Chatham County. A few quick statistics underscore literacy's impact on the path from birth through adulthood:

·       Birth – Pre-K: Learning begins at birth and low-income and disadvantaged students often fall behind more affluent peers in terms of school readiness, due to decreased vocabulary and other critical skills. Low-income children hear as many as 30 million fewer words than more affluent peers.

·       K-12: Many students who fall behind the ability to read proficiently by the third grade will encounter difficulties in the later grades and even possibly drop out of school.

·       Adults: Individuals with a lower rate of literacy have a higher unemployment rate.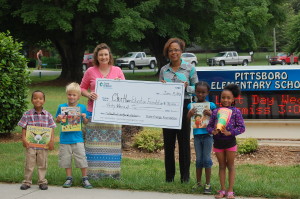 Duke Energy Foundation Representative Indira Everett with Pittsboro Elementary School Teacher Melissa Parks and students.
Chatham Reads partner organizations include: Chatham County Schools, Chatham Education Foundation, Chatham Literacy Council, and the Chatham County Partnership for Children. Supporter organizations include: Chatham County Commissioners, Chatham Economic Development Corporation, Communities In Schools of Chatham County, The Learning Trail, Child Care Networks, Chatham Connecting, among others.
This community collaborative works together to tackle literacy in Chatham County. Early initiatives include community book baskets, small community take-and-read library kiosks, books for babies, reading rewards and many more.
"At Duke Energy, we seek to close the achievement gap and end the cycle of poverty that often separates low-income students from their peers by funding programs that support childhood literacy, said Indira Everett, district manager of government affairs and community relations at Duke Energy. "Duke Energy is proud to invest in Chatham Reads and their efforts to ensure success in the classroom – and life."
"We are tremendously grateful for the combined efforts from all of our Chatham Reads partner organizations. Duke Energy's investment in our children and in their future success is something that will have far reaching benefits for the entire community" says Dr. Derrick D. Jordan, superintendent of Chatham County Schools.
The Chatham Reads collaborative is ready to encourage, inspire and educate the community of Chatham County about the importance of literacy from our babies and beyond.   As Frederick Doublass said, "Once you learn to read, you will be forever free".
About the Duke Energy Foundation
The Duke Energy Foundation actively works to improve the quality of life in its communities, lending expertise in the form of leadership and philanthropic support to charitable organizations. Duke Energy has long been committed to building and supporting the communities in which its customers and employees live and work. More information is available at duke-energy.com/foundation.
For more information about this topic, please contact Jaime Detzi by calling 919.578.1631, or e-mailing Jaime at Jaime@chathameducationfoundation.org.