The Chatham Education Foundation (CEF) is thrilled to announce the winners of its 2014 Creative Teaching Grants. Each of these projects exemplifies the creativity, professionalism and dedication of Chatham County Schools' teachers.
This year the Chatham Education Foundation supported 12 projects in 8 schools reaching over 1,700 students. The variety of projects supported was broad and included a students with disabilities accessible rolling garden cart, a biotechnology product allowing students to study their own DNA, a virtual trip to the moon with the portable Morehead Planetarium, and many more.
The Chatham Education Foundation Grants Committee was astounded by the creativity of the proposed projects, and is excited to see these projects come to life for the students of Chatham County.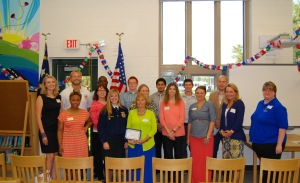 These grants were made possible by the generous donations of individuals and businesses in our community. CEF is grateful for the support of Chatham County residents, and we look forward to providing additional resources to the schools throughout the 2014-2015 school year.