The Chatham Education Foundation graciously accepted a donation in the amount of $10,000 to open an endowment with the Triangle Community Foundation.   This endowment will specifically support the Jordan-Matthews High School's annual trip to the National Holocaust Museum in Washington, DC.
The donors, Karen and Fred Shectman, moved to Chatham County seven years ago and have a son, daughter-in-law and grandchildren in the county schools.  This endowment was established in the memory of Karen's mother, Anita Woolf who died in 2013 at age 92.
Anita Woolf (pictured on right) and her sister, Ruth Jacobson (pictured on left) were raised in Port Chester, NY by their parents Dr. John and Selma Rosenzweig.  Selma had left Germany by herself in 1904 at age 15 to come to the United States and work with an aunt in New York City.  It was here in the U.S. that Selma met and married her husband, John Rosenzweig.  By the mid-nineteen thirties, it was evident that Selma's family was in grave danger in Germany.  John did not know any of Selma's family members, but agreed to sponsor, find work and housing for 29 of Selma's loved ones.
Selma's English was limited, so Anita and Ruth would go daily, after school, to the office of the Hebrew Immigrant Aid Society, HIAS, to facilitate all of the paperwork needed for Selma's 29 relatives.  The HIAS is still active today.
Selma, John, Anita and Ruth were able to save the lives of all of Selma's relatives except for her younger sister, Jenny, Jenny's husband and two teenaged sons.  Jenny's husband was reluctant to leave, as he believed nothing bad would happen to the heroes of Germany (he had fought and lost an arm in WWI).  Unfortunately, they were arrested, shipped off to a concentration camp and later murdered.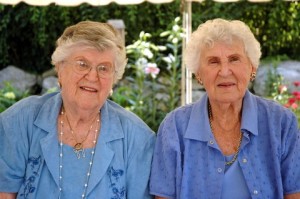 Helping to save 29 lives from certain death was a highlight in Anita's life, if not her proudest moment.  It is with great care, that Karen and Fred Shectman established this endowment in Anita Woolf's honor, so that students of Jordan-Matthews High School can continue to learn about the Holocaust and be forever educated about it's impact on today's society.
"Jordan-Matthews is humbled and honored by the extremely generous gift from Mr. and Mrs. Shectman in support of our annual Holocaust Trip to Washington DC. Their gift, and the endowment created through the Chatham Education Foundation, will allow us to keep the cost of the trip low so that no sophomore regardless of their economic circumstance will have to miss out on this life changing opportunity to learn about the horrors men can commit on one another and allow us to continue the mission to make sure that the Holocaust is never forgotten" said Martin McDonald, Principal of Jordan-Matthews.
CEF is honored to accept this donation to continue this important project in perpetuity.  Through generous donors, such as the Shectman's, we continue our mission to enrich student learning experiences in Chatham County.
About CEF
The Chatham Education Foundation is a non-profit organization that raises money to provide grants to teachers for projects that enhance the educational experience in the classrooms of Chatham County schools. CEF's programs are made possible by generous donations from local residents, businesses, Chatham County School employees, neighborhood campaigns, and sponsors and participants in CEF special events.  Please visit https://www.chathameducationfoundation.org/ for more information or follow us on Facebook and/or Twitter.
If you would like to donate additional monies to this endowment, please contact Jaime Detzi (Jaime@cefmail.org).