The Chatham Education Foundation is co-leading, along with the Chatham County Schools,  a collaboration tackling literacy growth in Chatham County, NC.
The mission of Chatham Reads is to foster community partnerships that are dedicated to ensuring that literacy and reading resources are accessible to all Chatham County residents.
Projects include:
Book Baskets – look around the community to find Chatham Reads book baskets in places where kids are waiting (restaurants, doctor's offices, community service facilities, etc)
Summer Slide – Chatham Reads has two projects in the works to tackle the summer slide which most impacts students living in poverty.
Little Libraries – Chatham Reads will host a number of small Little Libraries around the community to be used as "take and read" locations.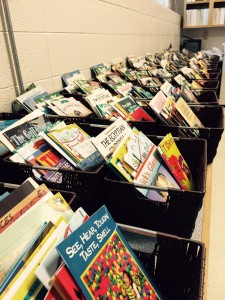 How can you help?
Donate books at one of our upcoming BOOK DRIVES.  We are seeking mostly new or gently used elementary school books.
Let us know where you would like to see books for those in need.
The collaboration includes:  Chatham County Schools, Chatham Education Foundation, Chatham Literacy Council, the Chatham County Library, Communities In Schools of Chatham County and the Chatham County Partnership for Children. Supporter organizations include: Chatham County Commissioners, Chatham Economic Development Corporation,  The Learning Trail, Child Care Networks, Chatham Connecting, among others.  
FAQ:
What is a collaboration and collective impact?  Brining people together, with a common agenda, to achieve a social change.  In our case, the agenda is to enhance literacy skills in Chatham County and provide literacy resources to all residents.
Why do collaborations/collective impact work?  Together we can make a bigger impact than any one organization alone.